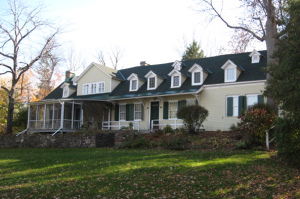 Along the shores of the Lake of Two Mountains, the Greenwood Centre for Living History is a historic site that dates back to 1732. For over 250 years, the house and gardens have always been a focal point for the community of Hudson. Greenwood was bequeathed to CHQ by Phoebe Nobbs Hyde, the last of the fifth generation to live in the house. Ms. Hyde wanted the historic character of the house to be maintained and open to the people of Hudson and surrounding areas. Thus, thanks to her generous contribution, the Greenwood Centre for Living History was born.
In 2012, the lobby area has been beautifully restored and enriched with new lighting that enhances the treasures of this magnificent house. The furniture and antique collections give a good insight into the lifestyle of those who lived here over the last three centuries.
The Greenwood garden is the jewel of this property. Adorned with vibrant colors from early spring until late fall, it is open to visitors who can admire the vast expanses maintained by the family for over a century. The Greenwood Centre is managed by a Board of Directors made up entirely of volunteers.
We invite you to visit www.greenwood-centre-hudson.org >