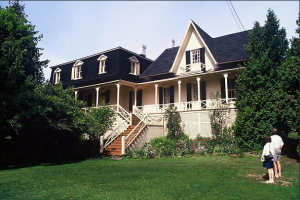 Acquired by CHQ in 1981, this house was the summer residence of the first Prime Minister of Canada, Sir John A. Macdonald, from 1873 to 1890. Like most citizens of that era, he used to travel by train to the Lower St. Lawrence to breathe the ocean air and enjoy the countryside.
The John A. Macdonald House is located in the historic area of St. Patrick in the county of Rivière-du-Loup, where several generations of many prominent families in the history of Quebec have stayed during the summer. The house has retained its original character inside and out, and a beautiful gallery allows visitors to catch a breathtaking view of the St. Lawrence River and the North Shore mountains.
Since 1996, CHQ has operated a bed and breakfast in partnership with the local community. The building, which has five bedrooms, has retained all the charm and character of yesteryear. The house is open to the public and rooms can be rented for short terms during the summer. A warm welcome awaits you at this beautiful house where you will be amazed by the sights overlooking the river. It is the perfect place for whale-watchers to observe these majestic creatures in their natural habitat.
How to get there
Information to come
Basic information
Information to come

Architectural
Information to come
History
Information to come