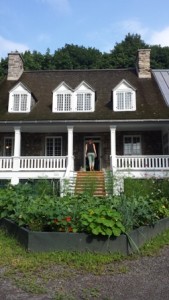 The Canadian Heritage of Quebec is proud to mark the 375th anniversary of Montreal and the 150th anniversary of Canadian Confederation by inviting amateurs of history and heritage for a tour of one of its magnificent properties: the Hurtubise House, the oldest building in the neighbourhood of Westmount. Built in 1739 and located at 563 chemin de la Côte-Saint-Antoine, this old farmhouse was the home of a French American large family, namely the Hurtubise, for many generations.
Come and join us for a cup of tea and a partially guided tour where you will discover the classical architecture and original interior of the Hurtubise House, as well as the new exhibitions on Montreal and the Canadian Confederation. Guests will also discover the new library and heirloom vegetables gardens.
The Open House at the Hurtubise House will take place on Wednesday July 9th and the following Tuesdays: 15, 22 and 29 August. The visit will begin at 1:30 p.m. (sharp) to end at 3:30 p.m. Access to the partially guided tour of the house and the gardens is comprised in the entrance fees of $10 and includes tea, drinks and a snack. As the number of seats is limited (15 guests per visit), please make your reservation now by email at coord@hcq-chq.org.
Revenues collected from these activities will be used mainly to continue the Heritage's mission which is the conservation of cultural and natural heritage in Quebec.