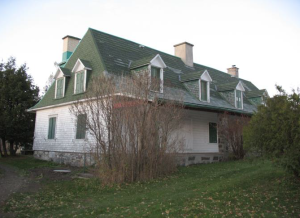 The restoration of the Domaine Pointe-de-Saint-Vallier began in 2011 and ended last fall. This project involved the restoration of the exterior of the building and the structure supporting the ground floor. The restoration concept, developed by architect François Varin, was based on historical research on the Manor and its site.
This project was completely funded by CHQ and was managed and carried out in collaboration with Mr. Varin and the support of volunteers of the Corporation du Domaine Pointe-de-Saint-Vallier (
http://www.pointedesaintvallier.com/
)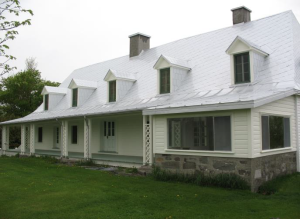 Outside, two major interventions were carried out:
1. The roof was restored with a combination composed mainly of "tôle à la canadienne" and " tôle à baguettes" for flatter parts including the roof of the gallery. Thus, the house will be better protected against strong winds from the river and from water infiltration. The roofs of several other houses located in the area were also built in the past according to this mixed model.

2. The badly damaged front porch floor, made of cement, was completely rebuilt in wood and decorated according to its original state in 1950. Having gone through various changes over the decades, this model seemed the most appropriate. Finally, the exterior of the Manor has been repainted, and the plaster of the three chimneys redone.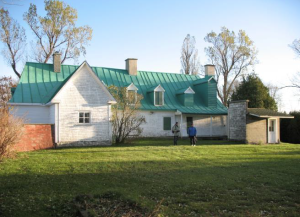 Back-Fall-09 – click to enlarge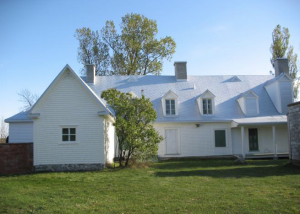 Back-Fall-12 – click to enlarge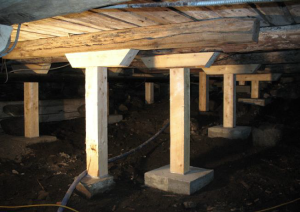 September 2011 – click to enlargeThe work done inside the Manor included consolidation of the ground floor structure from the basement. Many original columns supporting the floor were made of badly stacked concrete blocks that could have compromised its stability. Repairs included strengthening the floor structure beneath the entire Manor with cement bases and solid wood columns, requiring a tremendous amount of time and energy.
The ground floor kitchen and bathroom were improved and retrofitted for the benefit of visitors without affecting their integrity. The electrical system and plumbing have also been improved. Finally, this project has led to several interesting new discoveries. See our four pictures below.