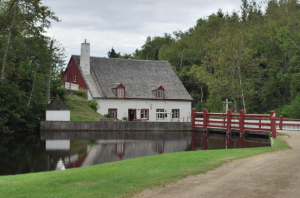 During the summer of 2012, CHQ proceeded with the restoration of the front roof, dormers and wall of the Les Éboulements Mill. The two side walls were also restored and the chimney has been limed. In 2009, the rear (south) part of the roof was restored and in both cases, white cedar shingles were used.
Once again, we called upon the expertise of Mr. François Varin, architect, with whom we jointly planned and supervised the project. This restoration project was funded by CHQ and the MCC.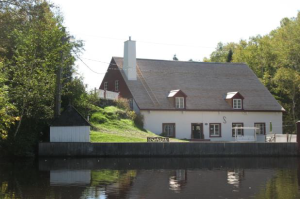 Les Éboulements Mill – After restoration – click to enlargeOnce the project was completed, the mill looked more refreshed than changed. This is indeed the objective of all our restoration projects which aims to maintain the integrity of heritage buildings. The roof ladder was also restored.
The general contractor selected following a call for tenders, lives in Les Éboulements. He worked with a professional in carpentry and masonry in accordance with traditional techniques. Mr. Jean-Guy Tremblay, our miller, a descendant of the original family, was also closely involved in this project for his knowledge and expertise. Mr. Tremblay has ensured the maintenance and good operation of the mill for more than 25 years.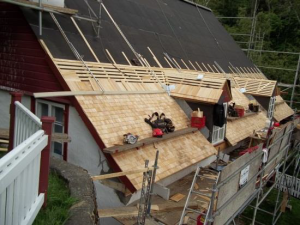 Using battens to provide ventilation under shingles – click to enlargeDuring all stages of the project, CHQ used the best available knowledge and restoration techniques.
For example, to maximize the life of the shingles, in accordance with best practices, a matrix of wooden battens was mounted under the shingle roof and dormers. In addition, a special "support" was placed on top of the roof and dormers. Along the eaves, an opening was protected against insects by a wire netting. This system allows natural ventilation from the bottom to the top under the shingles and will prevent their deterioration. A sealant was also applied on the shingles.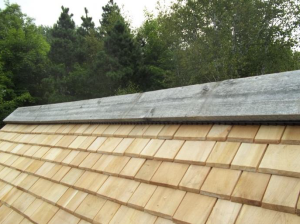 Roof ridge – click to enlarge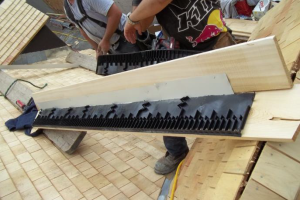 Ridge and dormers – click to enlarge