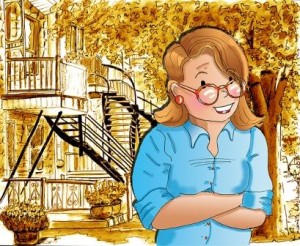 In the context of the 375th anniversary of Montreal, The Canadian Heritage of Quebec organizes a special conference for its donors, partners and the public. The theme of this bilingual conference is Documenting Cultural Heritage through Visual Storytelling and will be presented by Ms. Danièle Archambault, Ph.D., linguist and cartoonist. In her comic book series Stairway Stories, she portrays with humor the daily life of two young children growing up in Montreal in the late 1950s, right before the onset of Québec Quiet Revolution.
Montreal's Stairways are known as one of the significant elements of Montreal architectural heritage. For Ms. Archambault, visual storytelling provides an important window into a society's cultural and linguistic heritage through their form, allowing for the combination of images of everyday life with colloquial language. Through her series of humoristic short stories, the author and researcher introduces the reader to Montreal's architectural cultural heritage and the oral history of Quebec society at that time.
Biography:
Ms. Danièle Archambault, Ph.D., is a linguist and a cartoonist, who grew up in Montreal, Quebec where she was a tenured professor in the linguistics department at the University of Montreal until 1998. She moved to Palo Alto, California where she worked as a consultant in speech technology. In 2009, her interest in comics and bandes dessinées led her to take a class on writing graphic novels at Stanford University. She discovered a new and engaging way to share her reflections on language, culture and life.
This conference will take place in the middle of May 2017 at the Hurtubise House, 563 Côte St-Antoine Road in Westmount (corner Victoria).
This conference will last about one hour. For information: coord@hcq-chq.org